Automation systems for industrial sectional doors and folding doors
11 prodotti di 4 Famiglie
---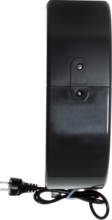 ARGO
24V electromechanical operator for sectional garage doors installable in residential, industrial and commercial environments. The sturdy mechanical structure and the microprocessor technology of the control unit allow intensive use of the operator, ensuring reliability and long life. The D-Track torque control system together with the absolute encoder ensure maximum precision in the control of leaf movement and the detection of obstacles.
catalog (PDF)
List of models ()
PEGASO B CJA UP
24V electromechanical operator for semi-intensive use, for automation of industrial sectional doors up to 25 m² (Pegaso B Cja 625) or up to 45 m². Limit switches with absolute encoder, with the possibility of rapid adjustment from floor. Max. opening speed 24rpm and max. torque 70Nm (Pegaso B Cja625); max. opening speed 24rpm and max. torque 100Nm (Pegaso B Cja 645).
catalog (PDF)
List of models ()

IGEA LB
Range of electromechanical operators for industrial folding doors, maximum two panels per leaf. Available also in 24V version to guarantee maximum anti-crushing safety and precision in movement and slowdown.
catalog (PDF)
List of models ()