Parking management systems
11 prodotti di 4 Famiglie
---
ESPAS 10
Entry/exit station for parking systems for collective use, able to operate in "stand-alone" mode.
The unit provides entrance and exit control and can be connected to electromechanical barriers.
catalog (PDF)
List of models ()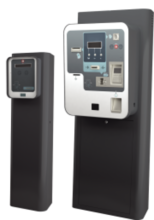 ESPAS 20
System for collective and commercial parking solutions, able to operate exclusively in "stand-alone" mode. Operation between the different devices of the parking system and calculation of tariff are managed through the issue of a ticket fan folder with type 2D barcode and reading via optical module with integrated motion detection function. The posts can be combined with other stations to automate up to a maximum of 8 entrances and exits.
Front opening for ease of inspection during installation and subsequent operation by the user.
The steel sheet body is cataphoresis treated and polyester coated.
catalog (PDF)
List of models ()
---
Bft offers a range of car park management systems suitable for small parking areas through to complex systems for large car parks. The range of products provides customers with a number of options to consider: the frequency of use per day, the size of the entry and exit points and the type of barrier control (remote control unit, U-link, CCTV or remote station) that is required. The range includes stand-alone and state-of-the-art wired systems, which can be controlled via the web with software that allows remote access.