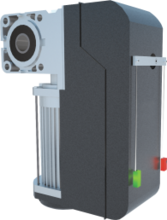 Max. opening speed 24rpm and max. torque 70Nm (Pegaso B Cja625); max. opening speed 24rpm and max. torque 100Nm (Pegaso B Cja 645). Dead man switch Electromechanical operator for semi-intensive use, for automation of industrial sectional doors up to 25 m² (Pegaso B Cja 625) or up to 45 m². Limit switches with absolute encoder, with the possibility of rapid adjustment from floor.
Main features
Management system for stop and intermediate limit switches based on absolute encoder technology with settable zero position.
Control unit with deadman feature on-board operator
Ready-to-use cables with quick-fit connectors.
Accessories


PEGASO UP CONTROL 5
D121624
PEGASO UP CONTROL 10
D121625