REEL EASY B10 230V W45
Product code P910052 00001
Wired operator for roller shutters. Max shutter weight 18 kg. max torque 10 Nm and power input 125 W. Shaft rotation speed 16 Rpm
Main features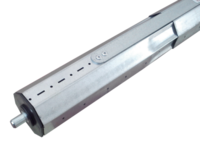 Technical data sheets
| | |
| --- | --- |
| Motor power supply | 230 V |
| Power consumption | 125 W |
| Outer diameter | 60 mm |
| N° limit switch revolutions | 28 |
| Type of end switch | Mechanical |
| Locking | Mechanical |
| Frequency of use | Residential |
| Protection rating | IP44 |
| Environmental conditions | -10 ÷ 40 °C |
| Interconnectivity | no |
Recommend accessories
SHEDIR B CBC 02 L01
P111515
Control unit for wired centralisation. For 2 operators (or 2 groups of operators) Application: wire centralisation board for 1 or 2 tubular...






MIME AC
D113824
433 MHz two-channel indoor receiver 2 independent outputs 230 Vac power supply 30-position memory Operating mode: monostable, bistable,...
MITTO B RCB04 R1 CLEAR ICE
D111947
Transmitter with 4 channels. Range 50/100 m. 12 V power supply with 1 23 A battery. Colour clear ice white. Buttons panel can be customised...
Do you need more information?
Please contact us and a member of our support team will reply as soon as possible.