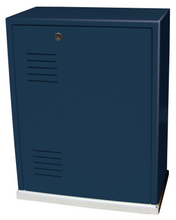 SP3500
Motors for large and heavy sliding gates - Power supply 230V or 400V three-phase
catalog (PDF)
Powerful, robust operators with 400V three-phase power supply designed specifically for large, heavy gates. The heavy structure of the gear motor, the painted galvanised steel casing and the on-board control unit make it the ideal solution for all industrial situations where reliability and power are essential.
Main features
Travel limits can be adjusted simply with the lever arm electromechanical limit switch system, giving absolute precision in stopping.
The powerful electric brake allows to block the leaf after the closing operations, guaranteeing a perfect closure even in sloped installations.
Technologies
A single communication platform for all types of control units and receivers. The innovative interconnectivity systems developed by Bft along with wireless connection solutions in the field of access point automation become integrated through the new U-link system communication protocol. A technology designed and developed to operate using specific gateways for any type of physical media and communication protocol. To fully facilitate installers in creating the system and in maintenance, Bft can offer solutions based on Bluetooth transmission systems in local and TCP/IP environments for remote connection. U-Link ensures an absolutely stable standard, correct communication, as well as secure data protection thanks to two levels of encryption, offered by the data encryption system and password of the protocol and by the underlying communication system. - U-Link is a technological platform that forms the heart of Bft products - U-link uses an open approach: by changing the B-Eba, Bft proprietary gateway, it is possible to adapt to many different communication languages - U-link is flexible: it can work with or without a network connection, depending on the B-Eba gateway installed - U-Link enables remote maintenance of the products thanks to two-way communication - U-link is scalable: an infinite number of objects can be added to a U-link network - U-Link allows the creation of groups of products: various B-Ebas can be grouped to allow individual or group control of the associated products U-link is an innovation that turns products into Bft solutions.
The new coding system for direct cloning of remote controls Based on microprocessor technology, this system allows the cloning of any MITTO remote control in a MITTO REPLAY remote control. In fact, the first remote control "teaches" the second one the correct code which is automatically saved in the receiver the first time it is used. Everything occurs at the highest levels of security thanks to the use of the Rolling Code safe transmission system.
Products list
SP3500 TRI 230
Operator 230 V for sliding gates weighing up to 3500 kg. Leaf speed 10.5 m/min. U-link and limit switch Electromechanical. Three-phase power supply 230 V. Fixing base included.
SP3500 TRI 400
Operator 400 V for sliding gates up to 3500 kg in weight. Gate speed 10 m/min. U-link and limit switch Electromechanical. Three-phase 400 V power supply. Anchorage base included. Operator with...
Accessories

RADIUS LED AC A R1
D114093 00002