BOTTICELLI BT A850 KIT
Product code R915152 00004
Kit for non-reversible sectional garage doors with tractive force 850 N and intensive usage. Door surface area 13 m². Opening speed 210 mm/sec. Chain rail in three pieces, length 2900 mm, effective travel 2400 mm
Main features
Fast and powerful motors: fast opening to minimise waiting times and intensive use of the automation for all types of application

Improved fast mechanical installation: by even just one person thanks to the new rapid Autoset procedure.

Encoder and exclusive D-Track force management system: for safe installation in all conditions.
Technologies
The thrust required to operate safely. A smart torque management system based on the microprocessor technology of BFT control units. Acquiring data from several indicators, it updates the level of thrust required to perform the operation. D-Track also facilitates the installer in providing for the certifications required by law. Conventional control units do not "read" the exact position of the gate and consequently apply constant thrust levels, without ensuring stable sensitivity during the opening and closing operations. BFT control devices record the slightest variation in the gate or door force, for example due to differences in temperature or wear, constantly supplying the optimum torque to the motor. A conventional control unit could not detect these thrust variations, which would result in it indicating the presence of non-existent obstacles. The BFT system thus guarantees the maximum safety and perfect functioning of the equipment, no matter what the climactic and temperature conditions and degree of mechanical wear.
The new coding system for direct cloning of remote controls Based on microprocessor technology, this system allows the cloning of any MITTO remote control in a MITTO REPLAY remote control. In fact, the first remote control "teaches" the second one the correct code which is automatically saved in the receiver the first time it is used. Everything occurs at the highest levels of security thanks to the use of the Rolling Code safe transmission system.
For fast and safe programming. EELINK is a system developed by BFT which, by means of connection to handheld programmers (Unipro, Uniradio and Proxima), makes it possible to transfer data from automatic systems to PCs and vice versa. Thus EEdbase or U-base, the databases of the information stored in the installed systems, are constantly updated. Thanks to this software it possible to associate the necessary personal details with each system: owner's address and details, name of maintenance technician, names of every remote control holder, etc. With EElink, just press a few buttons to easily manage the customer base or preventive maintenance. Even operations that were once complex become easier: for example, reconfiguring the control unit or the radio receiver in case of replacement or the setup of a control panel, starting from a standard or custom configuration.
A precise, safe and reliable technology Bft 24V technology ensures optimum performance with a precise adjustment of slowdown in closing and opening. Safety is another key aspect, ensuring the immediate stopping and reversal of movement in the presence of obstacles. The efficiency of the technology is a guarantee of the product's reliability.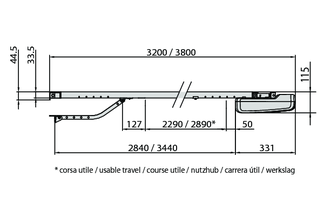 | | |
| --- | --- |
| Release | Steel cord or cable |
| Control unit | VENERE BT A DIS |
| Max opening speed (chain rail) | 210 mm/sec |
| Impact reaction | D-Track |
| Nominal voltage | 24 V |
| Max opening speed (belt rail) | 240 mm/sec |
| Protection rating | IP20 |
| Power consumption | 200 W |
| | |
| --- | --- |
| Type of limit switch | Encoder + mechanical stop for opening |
| Environmental conditions | -20 ÷ 60 °C |
| Tractive force and thrust | 850 N |
| Slowdown | Yes |
| Interconnectivity | no |
| Number of daily movements at 60° | 50 |
| Locking | Mechanical |
| Door surface area | 13 m² |
BIN 650-850 CATENA 2900
P115036 00001
BIN 650-850 CATENA 3500
P115036 00002
BIN 650-850 CATENA 2X1450
P115036 00004
BIN CHAIN 2X1750
P115009 00006
Chain rail divided into two halves for Botticelli, length 3500, travel 3000 millimetres Chain rail divided into two halves for Botticelli,...
BIN 650-850 CATENA 2X1750
P115036 00005
BIN 650-850 CINGHIA 2900
P115037 00001
BIN 650-850 CINGHIA 3500
P115037 00002
BIN 650-850 CINGHIA 2X1450
P115037 00003
BIN 650-850 CINGHIA 2X1750
P115037 00004
BIN 1250-2900 CATENA
P115035 00001
BIN 1250-3500 CATENA
P115035 00002

BIN 1250 2x1450 CATENA
P115035 00003

BIN 1250 2x1750 CATENA
P115035 00004



BRTS
P115029
Triangular slide arm for overhead doors For BOTTICELLI SMART BT A 850-1250, BOTTICELLI B CRC 480, EOS 120, BOTTICELLI 800 U and EOS 120 U...

RADIUS LED BT A R1
D114093 00003

RADIUS LED BT A R0
D114094 00003

RADIUS LED BT A R1 W
D114168 00003

BT BAT 3
P125047
Built-in penlight battery for Botticelli BT A for emergency operation. Enables 2 movements to be made. Max. duration 12 hours in standby...