STOPPY MBB
Retractable electromechanical parking bollards
Retractable electromechanical bollard for safety and protection in all areas that require controlled access. Available in shaft heights 500 and 700 mm. Ideal for locations of particular architectural interest, guaranteeing maximum reliability over time and requiring minimal maintenance.
Main features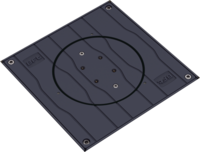 Accessories

BOLLARD CABLE EXT25
P800114
BOLLARD CABLE EXT50
P800115

LOOP DETECTOR PRO 230V
P111786
Metal object detector, 2 channels, 230VAC, up to 4 frequencies per channel for installation of adjacent coils, adjustable sensitivity level,...