E5 SMART BT KIT A18
Product code R930153 00001
24 V full kit for vehicle gates up to 100 kg in weight and 1.8 m wide. Limit switch control via absolute encoder. 14 second opening time (including slowdown) to 90°. The kit includes 2 operators with an articulated arm.
Main features
U-Link platform: Using the Thalia control unit, the E5 BT A operator is compatible with the U-Link communication protocol, the exclusive Bft connectivity platform.

D-Track dynamic path tracking: smart torque management system that constantly updates the gate torque level, improving the safety of the maneuver regardless of weather conditions, temperature or the degree of wear of the system.

Absolute Encoder: absolute encoder means that the E5 BT A recognises the position of the gate at any time, managing the slow down phase during opening and closing with absolute precision.

Ease of installation: the fixing bracket on the column or pillar provides simpler installation. The Thalia control unit has standardised colour terminal blocks which simplifies the identification of the outputs / inputs. The removable terminal blocks facilitate the wiring process. Extremely easy to set the closing and opening limit switches.

Speed: The E5 BT A12 takes only 4.5 to 6.5 seconds (90 ° manoeuver including slowdown) to open, based on the weight and dimensions of the leaf.

Push&Go: When activated, the Push & Go function allows the gate to open completely when manually pushed.

Multi-resident or commercial sites: The E5 BT A12 is ideal for apartment block installations or public buildings, with features such as remote opening from inside the building and the ability to set the gate to close automatically after opening, preventing it being left open.
| | |
| --- | --- |
| Max. weight of door/gate wing | 100 kg |
| Frequency of use | 20 Cicli/ora |
| Max. width of door/gate wing | 1.8 m |
| Degree of protection (IP) | IP44 |
| Control unit | THALIA |
| Cycle time | 14 s |
| Environmental conditions | -20 ÷ 55 °C |
| | |
| --- | --- |
| Board power supply | 230 V |
| Type of limit switch | Absolute encoder |
| Interconnectivity | no |
| Motor voltage | 24 V |
| Release | Reversible |
| Power consumption | 40 W |
| Impact reaction | D-Track |
THALIA
D113745 00002
Application: control panel with display for one or two 24V electromechanical operators for swing gates Card power supply: 230 V single-phase...
THALIA P
D113747 00002
Card power supply: 230 V single-phase Operators power supply: 24Vdc 240W max each operator Main features: removable terminal blocks with new...


RADIUS LED BT A R1
D114093 00003

RADIUS LED BT A R1 W
D114168 00003

RADIUS LED BT A R0
D114094 00003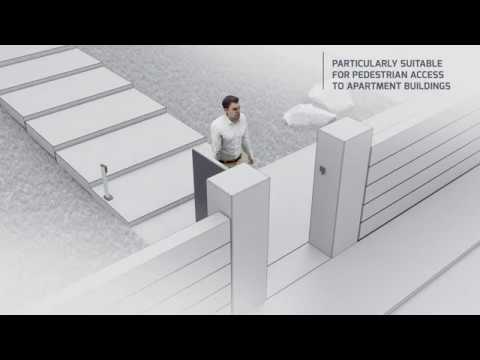 E5 BT A
E5 BT A Reversible 24V electromechanical automation with articulated arm for swing gates.
Show